It occurred to me I wasn't sure if I'd actually posted here about what the last few posts were about, hah.
Basically:
After lots of waiting, I finally got my job to move me from Maryland down to Georgia. Of course...that meant my pony had to come with me! So, last month (among other things), I came down to Georgia to find a new boarding barn (which is sort of a new experience since Kieran was boarded at Gentle Giants before and it's really not your typical boarding situation).
Anyway, I got that squared away and went back to Maryland. Where lots more waiting happened until I was finally given the official move date and was able to move on coordinating with Athena at Horse Jitney to get Kieran on her schedule.
I moved a little over a week ago. Kieran got picked up on Thursday and arrived yesterday, looking fabulous, as usual.
For the next several days, he's going to be kept separate from the other horses in the arena just to make sure he didn't pick anything up while shipping, but then he'll get moved in with his pasture buddy.
Today I went up there and pulled him out of his "field" and got him groomed and tacked up.
He did keep whinnying periodically, like, "hey, I'm too far from the other horses...wtf!" and he kept wanting to swing around to the other side of the tie rail (which was weird because then he'd be facing AWAY from the barn and fields. *shrugs*)
Still, he was otherwise okay.
We had a fairly short ride (about a half hour, mostly walking), since it was
hot
. Tell me why I thought it was a good idea to go ride my horse early in the afternoon in Georgia? Not to mention the new farm doesn't have a covered riding ring so we were out in the sun the whole time. I'm going to have to keep that in mind and shift my "it's time to go to the farm!" mentality and either go really early in the morning (unlikely, hah!) or later in the day...like around 6. (or even later, they have lights!) Our saving grace was that there was a cool breeze.
Anyway, we did a lot of walking, some trotting, and a canter once each way around the ring (and wow, in a ring of decent size, it was really easy to get a nice canter out of him!). Going straight was a challenge we're going to have to work on, but he did give me a couple of nice circles while we trotted.
Anyway, after that, we rode out of the arena (and I managed to unchain the gate without having to dismount!) and around the farm since there's a nice lane that goes up between the pastures, around one end, and back up the other side. They'd be nice to do just long straightaways of trotting (maybe cantering? I don't know...might stir up the other horses too much).
There are also trails that lead off the property but we left those for another day. Ideally, I'd like to meet someone there who also trail rides and wouldn't mind showing us the ropes before we go out on our own.
Anyway, after that was a long cool down and then I hosed Kieran off. I had wanted to foamy bathe him but I couldn't get the nozzle off the hose so just sprayed him with water. He wasn't really dirty anyway.
So...a really good day.
Oh! Also, look what the folks at Gentle Giants did for me as a going away present!
I bought the trunk back in January and it looked like this: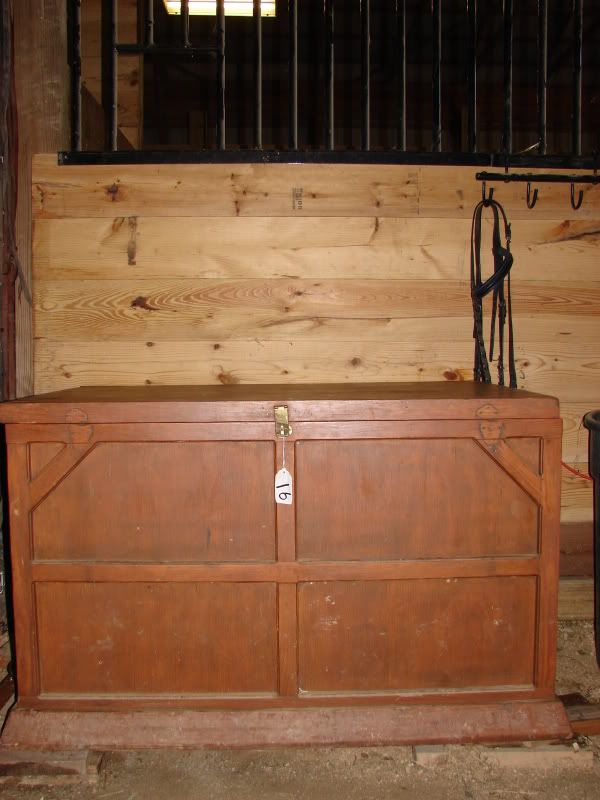 So they put on new hardware, stained it darker, and got a nice plaque for the top. Isn't it lovely? It's only flaw is...it doesn't fit in the tackroom at the new barn so it'll just have to adorn my living room instead. :)