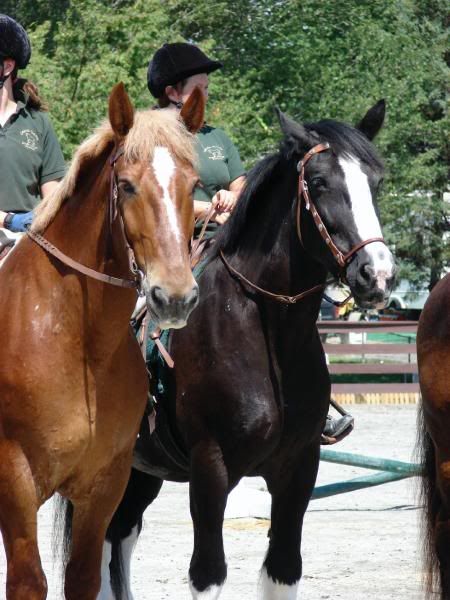 So, I went up to Gentle Giants this evening. Partly to do the volunteer thing, and partly to ride Big Red. Obviously, he's the chestnut on the left in the picture above. :) See, on Saturday, Red (a Belgian gelding at GG) and Chessie (a Belgian mare whose owner adopted her from GG) are going up to the York County Fair in PA. I'm one of the people who will be riding him (a girl is riding him in the morning in the kids' under saddle class and I'll be riding him in the afternoon for the adults' class).
I've only ever ridden him one other time and that time wasn't the best ride I've ever had. Not that he was
bad
per se, but there was a bit of a discussion on whether he was going to actually
go
. We didn't have that problem so much tonight. Of course, it helped that I was holding a crop this time (which I didn't have to use really, once he got into the groove). We walked and trotted around while Laura (instructor!Laura) rode Ivy (formerly Snow Angel, pictured below) and worked with her.
I also worked some more on the same posting exercises Kristy had me doing on Tuesday. I could definitely tell a difference tonight compared to the problems I had doing it Tuesday. Of course, I did spend some time working on my "homework" and I think that helped. That or it's just easier to do on a huge draft as opposed to the much smaller horse I was riding earlier in the week. :)
I kind of wish we'd tried to canter, but I would've needed to clear that one with Laura since they were riding in there as well. He did seem game for it, though. :)
I'll have to get someone to take a picture of us all fixed up for the fair, I'll actually be in semi-almost-formal (polo shirt, no jacket) riding attire! OMG! Assuming that the tall boots I'm borrowing from Laura fit me. Otherwise I'll be in my regular paddock boots, I suppose.
Tomorrow afternoon I'm going back up there to help Laura (other!Laura, there are three Lauras there now, oy) get Red ready for the show because it's her daughter who will be riding him in the kid's class Saturday morning. I'll probably get there before they do, though, so I'm thinking I might haul Carley out of the pasture and ride her again.
Last week, we didn't have a great ride. She was really twitchy the whole time and just refused to relax. Once I realized she was just continuing to work herself up into more of a tizzy over nothing and wasn't going to relax, I ended the ride. I'm hoping she's gotten over whatever it was that she got worked up about.

Annnd, that's about it for tonight. Tired Ana is tired. :)